As promised, here is a detailed list of tips before you buy anything on Carousell. This should help you when buying expensive anime figurines on Carousell.
Read up about my overall experience on Carousell here. As much as you would want to buy on impulse, please do go through this checklist mentally and exercise these necessary due diligence!
Here is a summary:
Do your research
Check the reviews and authenticity of the seller
Ask for Photos
Find out how to deal
Double check the product before proceeding with payment
1) Do your research
Research is about everything. Do check out these useful tips!
Am I getting a good price for this item?
You can start your research on the usual retail price through anime merchandise websites such as Good Smile, Amiami, Hobbylink Japan, 1999. Some of these sites display their prices with Yen or USD.
I would use my Oanda Currency Converter app or do a quick Google search to get the prices in SGD with about +/- 3-5% deviation. Local banks websites also have conversion applications. 3-5% deviation happens because your debit/credit card will have surcharge for paying in foreign currency.
Try adding the items into cart and see how much the costs add up, in terms of shipping, taxes and other costs. This would give you a good estimate of the price.
What about local retail prices?
Certainly, most would agree that retail prices can be marked up by at least 30-60% as compared to online prices. Retail shops incur significant overhead costs such as utilities and rental costs. Remember that local retailers are able to get good at wholesale/bulk prices so the cost-savings might be quite significant as compared to shipping on your own.
A pro tip would be to personally head down to a few hobby shops in town to get a sensing of the prices. Check out shops like Hobby Frontier, Omocha House, Otaku House, Hobby Frontier, OtakuTachi, La Tendo and many more.
Keep a lookout for seasonal or clearance sales where the prices are significantly lower.
Is the figurine supposed to come with any add-ons, accessories, or platforms?
Again, verify your item using anime merchandise website. Even better, verify the products with the official manufacturer's website (if there is an English version).
Otherwise, YouTube usually have videos of people doing unboxing showcases. Do check those out!
2) Check the reviews and authenticity of the seller
The more reviews a seller has, the better your buying experience will be. While that is usually the case, there are those sellers that do not live up to their seemingly good reputation.
On a superficial level, the trust you seem to get from a seller with 500+ positive reviews is definitely much higher than a seller with 50+ positive reviews. It's true, but not always.
The quality of the reviews matter too. Someone might have 1,000 reviews but the things that they sell can be generally cheap items. Do read through the reviews to get a sensing of what sort of a person you are dealing with!
3) Ask for Photos
Ask for photos of the current condition of the item!
I am not sure how people can buy an item that costs more than $100 without verifying the pictures? Heck, the listing might even be fake!
Always ask for photos, front and back. If there is an an authenticity sticker, please ask for a enlarged photo as well!
Not all boxes come with an authenticity sticker (it is a licensing right). When there is an authenticity sticker, it should look something like this.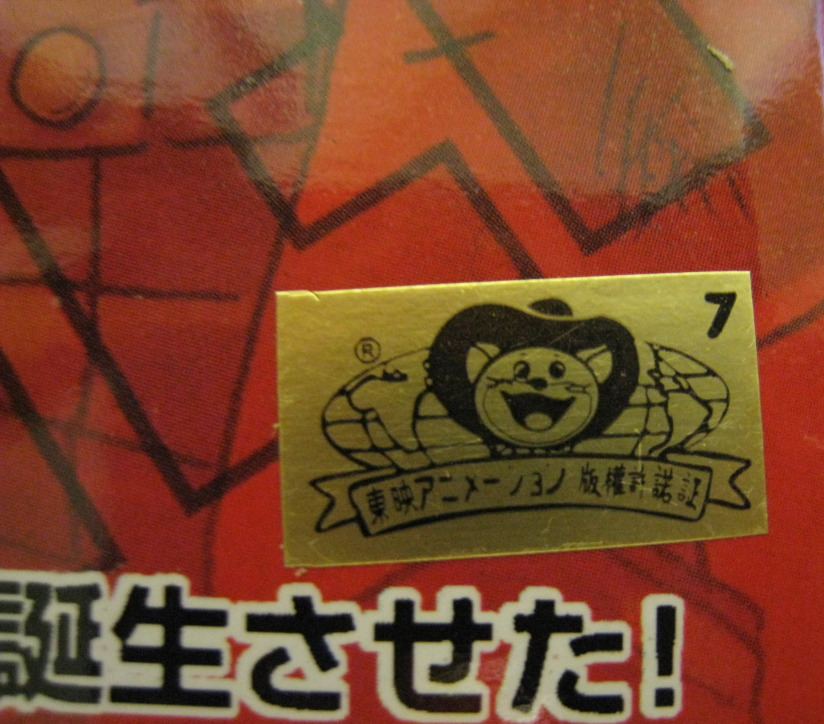 Tips on what to look out for in photos. Check for the following:
Authenticity sticker

Box is not damaged/ Sealed

Wordings (if possible)
It is difficult to make out the state of the figure based on photos alone. You can always request to check the item before payment again.
The authenticity of figurines is another issue that is discussed here.
4) Find out how to deal
Read the seller's homepage or item description to find out if the deal is only meet-up only, or available by registered postage. If by postage, expect an additional charge based o the weight of the product.
If deal is by meet-up only, consider the location and proximity of the deal. You do not want to travel half of Singapore just to get a deal that saves you $5.
Transport and time are costs as well!
5) Double check the product before proceeding with payment
This is the most important aspect! If you are meeting at MRT stations and dealing across the gantry, chances are you won't have time to check the item – this is very risky. What if the figurine is damaged?
Bonus Tips!!
Consider tapping out and request to check the product in detail before handing over cash. Ensure that the parts are not loose, the painting is not faded and the packaging looks authentic and undamaged.